It's great to finally see my company, Certain Affinity, getting some love for our co-development of Halo 4's competitive multiplayer, 'War Games', with 343, including working on game modes such as Dominion, and on a majority of multiplayer maps, such as Adrift and Longbow.
Here are the highlights, from a range of top videogame news sites:
IGN: How Halo 4 is Seeking to Win Multiplayer Wars
These guys really get multiplayer, and they have a long and intimate relationship with the Halo universe.
Hoberman says, 'We mandate internally that we play this stuff over and over. We have to be fans of our own work and we have to put it to the test day in and day out. We insist that our developers participate in daily playtests. It can be tough. Our artists, for instance, they have a big to-do list, but we make them take an hour out of their day to playtest. We think that's invaluable. Fans are going to pick these things apart.'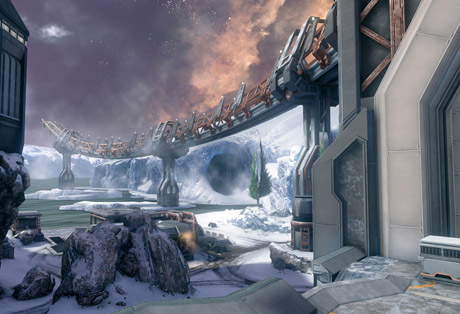 Penny Arcade Report: In the shadow of greatness: How Certain Affinity co-developed Halo 4's multiplayer and Forge modes
The company has been operating under a co-development model where despite considerable contributions, they receive little outside recognition. They're the Navy SEALs of game development; they get in, complete their work, and get out, likely to never see the spotlight they deserve.
Creating great multiplayer experiences is what Certain Affinity does best. Their pedigree speaks for itself, but if there's any team that can explain how to make FPS multiplayer work, it's these guys.
"I'll use Longbow as an example," Wattenbarger said. "We had a block out that had multiple bases and was lots of fun for vehicles and infantry, but did not visually look pretty at all." […] Hoberman jumped in to elaborate. "By the time artists really dive in on the map, it's 90% of the way there from a design standpoint," he said. "Their job is to make it look pretty without breaking things that work really well that are fun."
Dominion, an evolution of Halo: Reach's Invasion mode, came from Certain Affinity: "How do you make a strategic game, how do you make a game that has depth, but is highly accessible?" Hoberman asked me. The answer, turns out, is you do what gamers do best: play. You play and play and play, taking in as much information and observing player behavior as you can.
Hoberman is right: a good idea is a good idea regardless of where it comes from. If Certain Affinity – a small independent house working alongside giants of the industry – has a good idea, it's only fair to recognize their hard work.
Gamespot: Halo 4 Not Built By Microsoft Alone
This Austin, Texas-based game studio has a formidable multiplayer development pedigree. The company contributed to Halo 2, Halo: Reach, and Halo Combat Evolved: Anniversary, as well as Call of Duty: World at War and Call of Duty: Black Ops. That makes them the only studio to work on both Halo and Call of Duty.
CheatCC: Certain Affinity Talks Halo 4 Multiplayer
Certain Affinity was deeply ingrained in Halo 4's multiplayer, and their influence will undoubtedly resonate through just about every aspect of that.
"That's actually one reason I've always gravitated toward multiplayer," Hoberman told me. "In some ways, when we're not as bound by the in-game and the linear storyline and those sorts of things, you're more free, in a way, to explore whatever crazy location you want. It's kind of cool. Whatever you can dream up.
"Sometimes the inspiration is as simple as one line in one of the novels where they mention a cold colony on some planet, and nobody knows anything about it, nobody knows what it looks like or any other details. We get a chance to imagine it and flesh it out, which is really cool, one really awesome aspect of this franchise."
GamesIndustry.biz: The indie behind Halo 4 and Black Ops
It's easy to look at the development of Halo 4 as the story of an upstart studio doing its best to emulate the success of original franchise developer Bungie. However, the upstart studio in question isn't necessarily 343 Industries.
In its six-year history, Certain Affinity has worked on some of the biggest games in the industry: Call of Duty: Black Ops, Left 4 Dead, Halo: Reach, and now Halo 4.
"The reality is that we set out to create a company with all the skills and experience to create the next big action franchise," Hoberman told GamesIndustry International. […] One key to Certain Affinity's strategy for producing high quality original work can be seen in the way it has slowly built the development team, bringing people on at a conservative pace to ensure they weren't settling for inferior candidates or growing to an unsustainable size. Hoberman said that in six years, the company has never had layoffs.
He also places an emphasis on retaining the talent Certain Affinity attracts with enticements including a "ridiculous" profit-sharing plan. While that's money the studio could be putting aside for a rainy day, Hoberman believes it's a risk that needs taking if the studio ever wants to realize its grand ambitions. It's an approach inspired in part by his time at Bungie.
Eurogamer: Meet Certain Affinity, the Halo 4 developer you've never heard of
What most Halo fans don't know is 343 wasn't alone in taking on Microsoft's most treasured IP – it had a little help from an unsung hero.
That unsung hero is Certain Affinity, a studio you've probably never heard of before.
Certain Affinity co-developed War Games, Halo 4's competitive multiplayer portion, developed the majority of the War Games maps, developed all of the maps in Forge, Halo's user-creation tool and created some of the competitive multiplayer modes, including Dominion. In short, if you're playing and enjoying Halo 4, you're probably playing and enjoying something Certain Affinity played a part in creating.