What I Do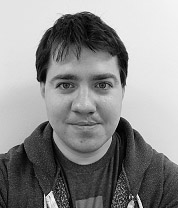 I'm a game systems, narrative and technical designer with an emphasis on implementation and development. I have AAA experience ranging from dedicated scriptwriting to game systems design and programming in a range of major engines, including games in the Halo, Call of Duty, Star Wars, Mafia, World of Tanks, and Driver game engines, not to mention Unity 5 and Unreal Engine 4. I have 10 years' experience in the games industry and have worked on projects and pitches for Lucasarts, Sony, Ubisoft, Microsoft, Activision, Nintendo, 2K, Wargaming, Disney, and Electronic Arts.
I work as Senior Technical Designer at Respawn Entertainment in Los Angeles.
How I Started
After getting into online multiplayer text games in my early teens, I first learnt to program on a MUCK/MUD game I operated myself from a home server. This hooked me on world creation, scripting, and ultimately game development. I learned scripting languages based on LISP and Forth, and over the course of several years I wrote 18,000 lines of code across 370 programs in the game, building a player base of 2300 players, who used the game's global chat command over 800,000 times during the lifetime of the game.
In my late teens, I taught myself web development using the LAMP stack using such venerable resources as HTMLgoodies.com, and at 20 I founded a boutique web development company where I showcased my portfolio, eventually developing a Content Management System in PHP for the MP for Cambridge. I taught myself C++ using the excellent C++ How To Program by Deitel & Deitel in order to figure out how to start making games using the open-source OGRE3D rendering engine. I studied English Literature at Cambridge, but spent my spare time coding, watching movies and TV, and developing and playing games.
Career History
Free Radical Design – Game Designer for Cutscenes on Star Wars: Battlefront III
Ubisoft – Narrative Designer on Driver: San Francisco
Chillingo – Freelance Writer for their mobile marketing, including games like Angry Birds and Predators
Zindagi Games and Sony – Writer for Medieval Moves: Deadmund's Quest
Rotor Games – Freelance Narrative Designer for Final Run for iOS
AppNormals – Consultant Game Designer for Super Barista
Murka Games – Lead Writer for a prototype mobile title
Zindagi Games – Lead Writer on an AAA prototype and for game pitches to a major publisher
Certain Affinity – Senior Designer on projects including:

Halo 4: Bullseye Pack DLC (Ricochet Game Mode)
Other unannounced or in-development projects.
Current Position
Respawn Entertainment – Senior Technical Designer on Star Wars Jedi: Fallen Order. My key area of focus is supporting the Narrative Team on the project through the design and development of narrative-focused game systems and tools. I also design and implement other game systems and support developers across the entire team.
For more detailed information on my work, please see the Games page.
Interests
My current technical interests at home include working with node.js, running and working with AWS servers, and programming in C# and Python.
Other Stuff
I am part of a dormant startup called Zone In which tells you about events happening near you in real time. I also helped establish and manage web operations for the now-dissolved garments startup, Hindu Kush Clothing, which made garments from a special wool produced in the Chitral valley on the border between Afghanistan and Pakistan. I also have a couple of start-up ideas which are currently in the "nurturing" phase.
Links
I tweet at Dave_Midgley. I'm on LinkedIn: David Midgley.